After a lot of renovation work and a big move, the time had come on April 21, 2021: Our new Happylab location in Vienna's Stuwerviertel (Schönngasse 15-17, 1020) was officially opened! On over 900 m2, makers and start-ups can implement their ideas in the new Happylab with professional high-tech machines in the middle of Vienna. Our new offer includes many new machines, a new co-working space and new training offers.
Guests at the symbolic opening act were Economics Minister Margarete Schramböck, City Councilor Peter Hanke, FFG Managing Director Henrietta Egerth, Vienna Business Agency Managing Director Gerhard Hirczi, Eva Czernohorszky (Vienna Business Agency, Head of Technology Services), Michael Schwantzer (Vienna Business Agency, Technology Services) and Barbara Lohwasser ( FFG, structural programs).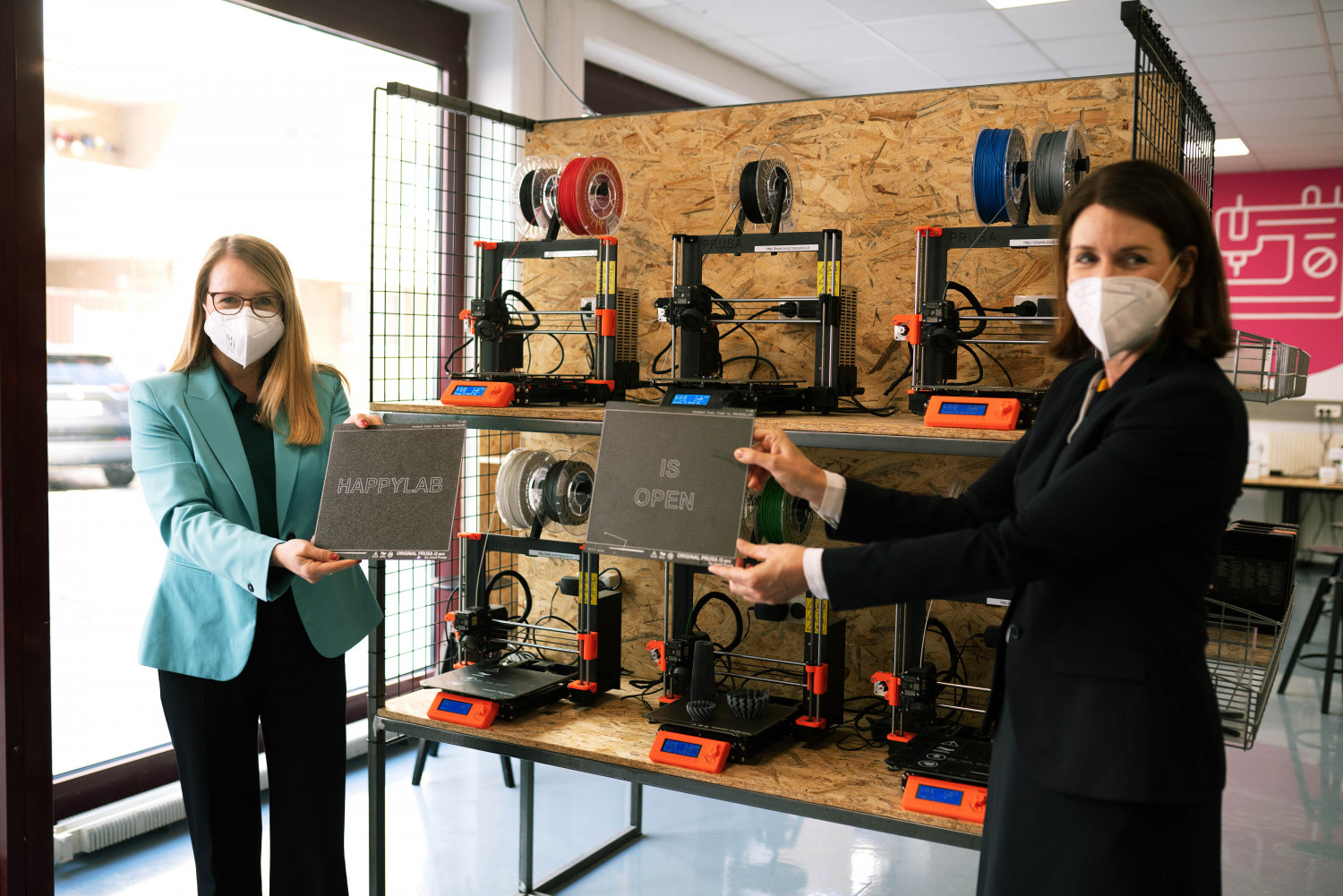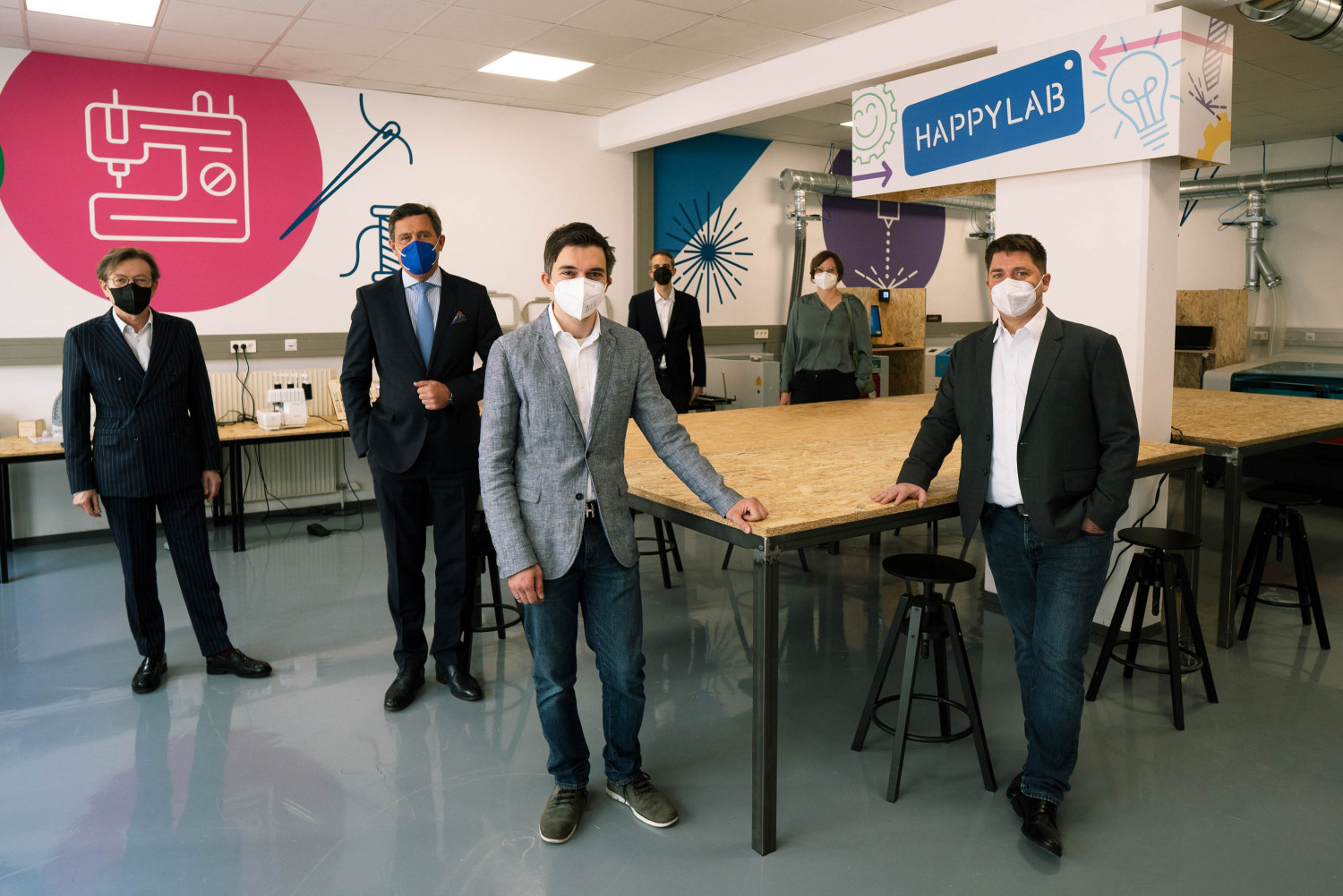 As part of the opening, our guests were given a tour of the new makerspace including the new wood and metal workshops. Two entrepreneurs from the Happylab community gave an insight into their founding stories, which are closely linked to the Happylab:
Yasmin Proksch uses the laser cutters at Happylab for the accessories of her label YAGA. Each product is first cut using a high-tech laser at Happylab and then sewn by hand in the traditional way.
Philipp Albrecht presented his start-up HappyMed, which developed the first medically certified video glasses that use audiovisual sedation to counter stress and anxiety during medical treatments. The Viennese start-up used the infrastructure at Happylab to manufacture its first prototypes itself without great financial risk.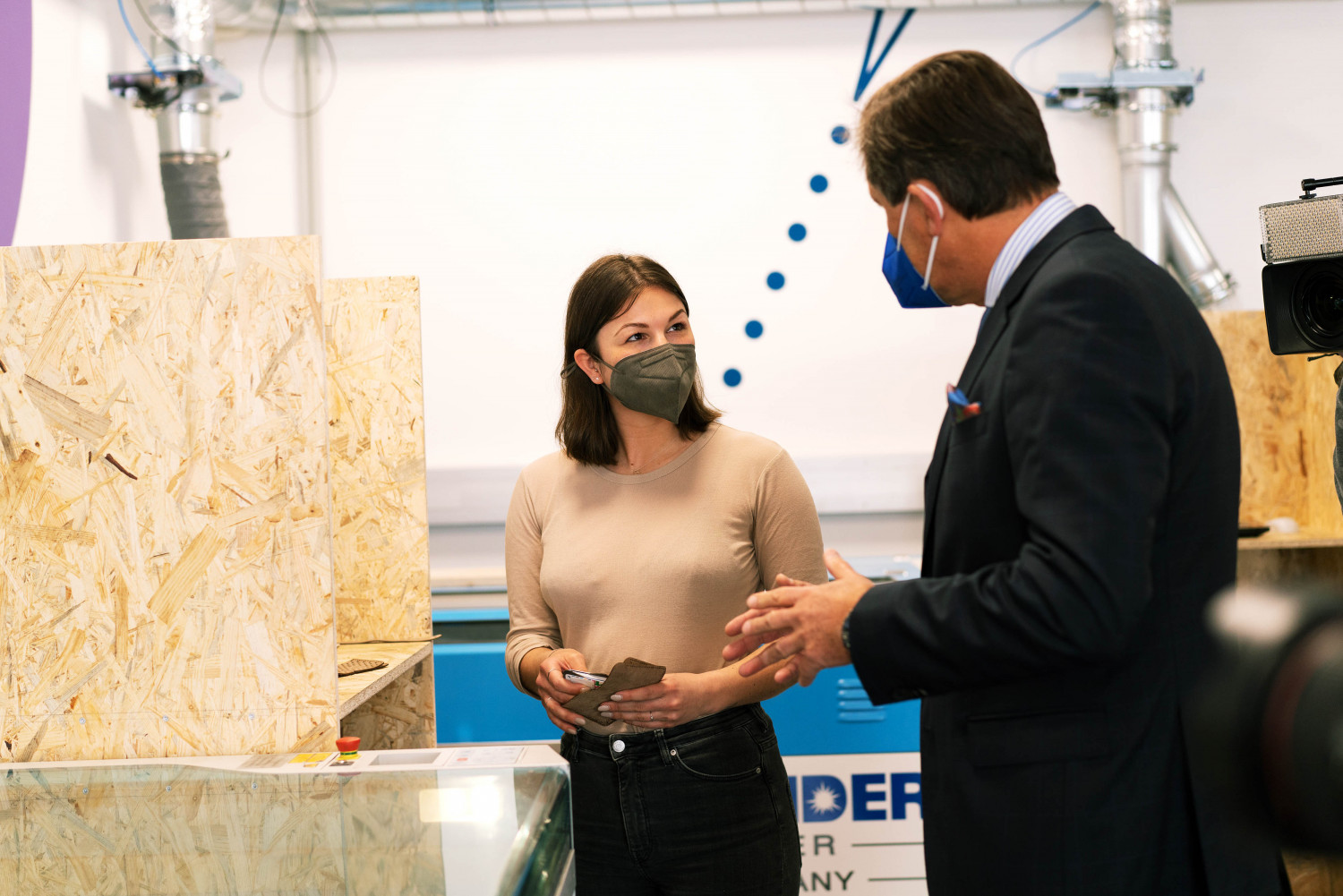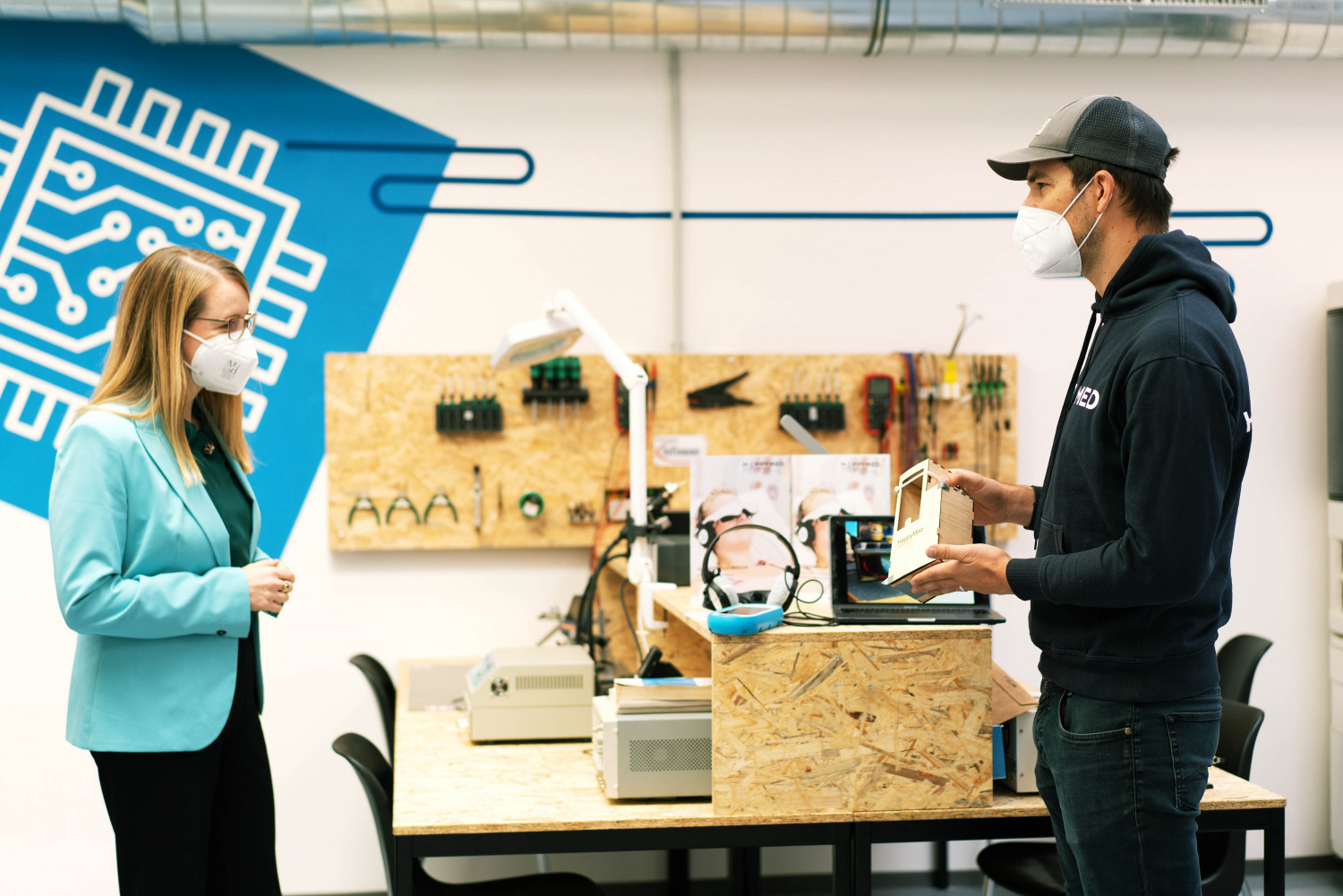 At the end of the tour, our new makerspace was symbolically opened with the start of a 3D printer by Economics Minister Margarete Schramböck, City Councilor Peter Hanke, FFG Managing Director Henrietta Egerth and Vienna Business Agency Managing Director Gerhard Hirczi. Since the opening unfortunately had to take place without an audience due to the COVID19 restrictions, our guests sent our community greetings via the following videos!
our first tour through the new Happylab!
With the new Happylab, Vienna's maker and start-up scene is getting a new local production workshop that offers digital manufacturing infrastructure, offices and exchange with an innovative community in one place. The new innovation workshop enables access to digital manufacturing technologies such as 3D printers and laser cutters, professional prototyping machines in the wood and metal sector and an integrated co-working space. Thanks to cost-effective memberships, new ideas can be tinkered easily and without financial risk.
In this video we take you on a virtual tour through the new space and show you what awaits you on over 900 m2 at the new Happylab!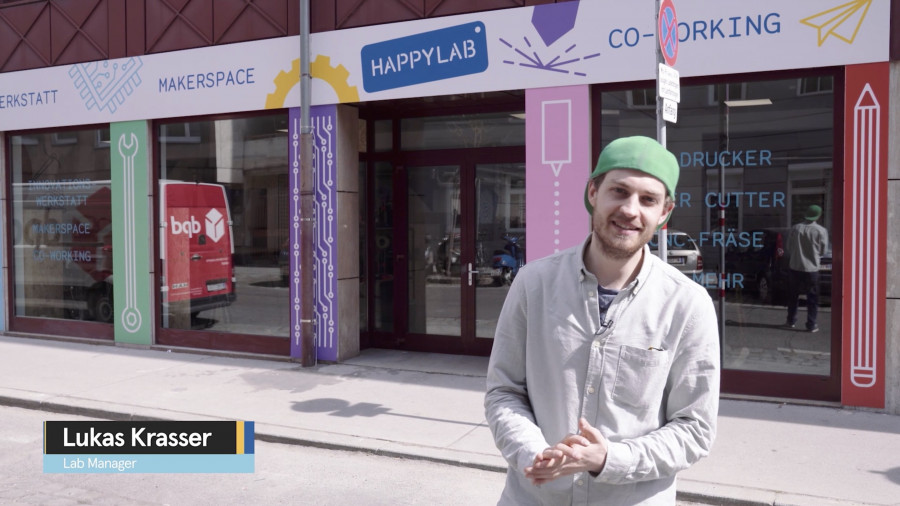 plans for the future: A new, innovative ecosystem for Vienna's maker & start-up scene, cooperation with schools and more women in the maker scene
We won't stop with the opening of our new location! In the next few years we want to create an innovative ecosystem ("Happylab Innovation Cluster") through cooperation with existing institutions such as universities, local companies or other makerspaces. In addition, Happylab will also support schools in setting up makerspaces and bring digital tinkering into open youth work in order to anchor the use of new technologies in society in the long term. Another aim of Happylab is to break down the barriers for women in the maker scene with targeted measures and to promote diversity.
We are already in contact with some companies and institutions regarding cooperation. Stay tuned! We super happy about the video greetings from our partners that have reached us on the occasion of our opening in the last few weeks!
Funding of 750,000 € from the federal government, ffg and the Vienna Business Agency
In line with the federal government's open innovation strategy, Happylab is creating an open innovation and experimentation space, in which the population's innovation potential can unfold. For the implementation of the planned expansion of infrastructure and services, Happylab is supported with funds from the Federal Ministry for Digitization and Business Location (BMDW).
"Good ideas need a fertile breeding ground in order to develop their full potential. In innovation workshops we create a space for networking, experiments and new innovations together. I am convinced that at the Happylab, ideas will grow and the creative work will bear fruit." , said Minister of Economic Affairs Margarete Schramböck.
As a local innovation and production workshop, Happylab is also a key project in the Vienna coalition agreement and the "Vienna 2030" economic strategy, which is dedicated to the topic of "smart production in the big city".
"With the Vienna 2030 - Economy & Innovation' strategy, we are focusing specifically on future issues in Vienna in order to provide answers today to the major challenges of the coming years - from climate change to digitization. The offer of the newly opened Happylab helps us to reach and involve as many people as possible in the digital sector. This makes Happylab an important component of the capital's innovation strategy, "says Peter Hanke, City Councilor for Finance, Economy, Digitization and International Affairs.
In the next four years, the Happylab will therefore be supported by the Austrian Research Promotion Agency (FFG) through the "Innovationswerkstätten" program with funding of 500,000 euros. "Ideas need space. That is exactly what Happylab offers and thus creates a creative space to implement innovative product ideas in the middle of Vienna," said Henrietta Egerth, Managing Director of the FFG, on the occasion of the opening.
In addition to federal funding, the Vienna Business Agency is supporting the project with co-financing of 250,000 euros. "Especially for companies that are just starting out, it is important to test their ideas as cost-effectively and efficiently as possible. With Happylab, Vienna has a place that enables exactly that in the field of digital production. This helps companies to realize their projects and position themselves in the market ", says Gerhard Hirczi, Managing Director of the Vienna Business Agency.